2021 MINI Cooper Electric Reviews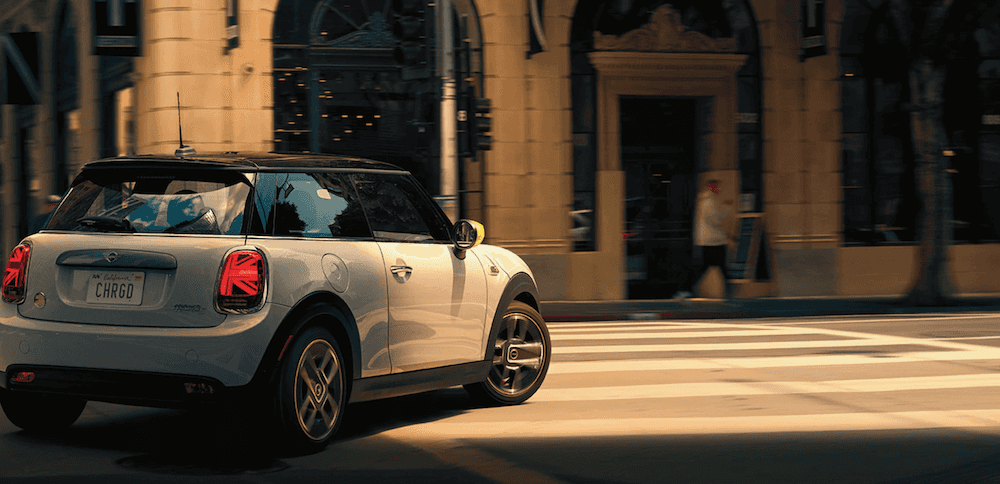 The 2021 MINI Cooper Electric Hardtop 2-Door hasn't even hit the streets of San Francisco yet, but already it's generating major buzz amongst industry reviewers! Writers from U.S. News, Car and Driver, and more have taken their first drives in the MINI Cooper Electric, leaving them with plenty to say. See how they're weighing in with East Bay MINI down below, where we'll cover some highlights of the MINI Cooper Electric reviews!
New MINI Electric Reviews: The Price Range
Have you been wanting to upgrade your Oakland commutes with an all-electric vehicle for a while, but have been held back by the often hefty price tag that comes with electric cars? The MINI Cooper Electric may be just the solution you've been searching for! With a starting MSRP of just $29,900, the MINI Cooper Electric price sits well below that of competitors – even the Chevy Bolt rings in at $6,000 more.
In their MINI Cooper Electric review, Car and Driver mentions how the 2021 MINI Cooper Electric price remains just as affordable as the outgoing 2020 model, and that the eligibility for a Federal Tax Credit may even save drivers up to an additional $7,500 off the MSRP:
Car and Driver – "… That makes the base model a great value, offering plenty of standard features such as automatic dual-zone climate control, heated front seats, faux-leather upholstery, LED front lighting, hands-free passive entry, and rain-sensing windshield wipers."
New MINI Electric Reviews: The Interior
Despite the budget-friendly MINI Cooper Electric price, you can look forward to a fantastic array of standard interior features, even in the base model! Reviewers at U.S. News mentioned the "stylish interior and intuitive tech" as a high point in their new MINI Electric review, expanding on this point to say:
U.S. News – "The infotainment system works pretty well, and it's not overly complicated. The display, as well as the physical buttons and knobs, are all easy to see, identify, and reach from the driver's seat, making it easy to adjust settings on the go."
What is the MINI Cooper Electric Range?
The MINI Cooper Electric range is 110 miles, which is ideal for Bay Area commuters who don't need to go much further than Livermore during a typical week. This may be a lower range than some electric vehicles offer, but that shouldn't deter a city or suburban driver from getting behind the wheel – take it from the reviewers at U.S. News, who said:
U.S. News – "The 2021 Mini Electric Hardtop has less range than many EVs, but it's more fun to drive than most hybrid and electric cars."
Some electric vehicles sacrifice power for range, but not the MINI Cooper Electric! It generates a punchy 181 hp and 199 lb-ft of torque, as well as classic MINI handling and agility. With nightly at-home charging in a basic three-prong outlet, it's easy to maintain enough driving range to get to and from work. Or, charge to the maximum 110 miles, and a day trip to one of many recreation areas surrounding Pleasanton is easily within reach!
Reserve Your 2021 MINI Cooper Electric Today
Demand for the 2021 MINI Cooper Electric is high – don't miss out on your chance to be among the first to drive one when it arrives in Pleasanton! Contact us at East Bay MINI to reserve your new MINI Cooper Electric today.
More from East Bay MINI
The 2022 MINI Electric Hardtop 2-Door infuses the fun styling and racecar-like handling of the classic MINI Cooper Hardtop with electrifying performance. Electric vehicles offer a more efficient and eco-friendly way to get around the Bay Area, but is the MINI Cooper Electric range enough for your daily commute from San Francisco? When fully charged, MINI's…

With its punchy paint color selection and fun British style, the new MINI Cooper Countryman is an alluring vehicle. If you're drawn to the classic Hardtop 2-Door or 4-Door MINI Cooper but have found that they're just a little too compact for your needs, the Countryman was made for you! The MINI Cooper Countryman interior…

When you've experienced driving from behind the wheel of a MINI Cooper, you know there's no need to sacrifice style for serious efficiency. Whether you choose a hardtop or convertible model, or the larger Countryman and Clubman models, the 2021 MINI Cooper MPG estimates are outstanding. Join the team at East Bay MINI for a tour of…