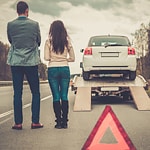 Our team at East Bay Authorized Service Center believes that a roadside emergency kit with the correct elements keeps you and your passengers safe and sound until help arrives.
Lighting
Including reflective triangles and flares in your emergency kit can alert other drivers to your position on the road and prevent an unfortunate collision. A flashlight is also helpful, especially the adjustable versions that flash.
Jumper Cables
You can use jumper cables to get a jumpstart from another vehicle and make it home or to the nearest service station. You may also need to carry a car battery charger for cranking your automobile when no one else is around.
Personal Supplies
If you are on the roads of Pleasanton, CA for an extended period, you will need supplies that keep you sustained until you get off the road. Carry non-perishable foods like nuts, dried fruit, jerky, and granola bars to remain nourished. Also, you can keep blankets or a sleeping bag to endure colder nights.