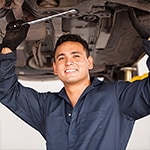 Spring is approaching, which means it's time to prepare your vehicle for optimal performance safety. Read on for a few spring car care tips from our team in Pleasanton, CA to get you going.
1. Rotate Tires and Get a Wheel Alignment: Extreme weather conditions can do damage to your tires. If you've encountered several potholes in the winter, you'll especially need a tire rotation and an alignment. Alignment issues can wear your tires quickly, so it's important not to delay in getting this professionally done.
2. Check Oil and Windshield Wiper Fluid: There's no better time than now to check your oil and windshield wiper fluid. There's a good chance that it's time for an oil change. You may also need to change to a summer solution for your windshield wiper fluid for optimal performance.
3. Set Tire Pressure: Changes in temperature lead to tire pressure fluctuations. For this reason, be sure to ensure your tires are set to your vehicle's standard settings.